We present a collection of modular furniture for outdoor equipment: Orixe
Through our brand Savia, and with the co-development of the Stone Designs studio, we launch this new range at national and international events
13-04-2023
Fuente:
Finsa
- Autor:
Finsa
The stump is the vestige and, in turn, the origin of all wood products. It inspired us to create Orixe ("origin" in Galician), a new collection of modular furniture for outdoor equipment.
This year we will present it at different events through a chat format with Stone Designs and Carrefour Property, which is already testing the first prototype in one of its busiest shopping centers in Spain. Take note and follow our social networks to find out about all the opportunities to get to know Orixe first hand:
March 28-30: Rebuild.
April 13: Aretha Space (Paseo de Eduardo Dato, 2, Madrid).
April 18-23: Salone del Mobile in Milan.
What is Orixe?
It is the range that we have created with our solid wood firm Savia and the co-development of the Stone Designs studio. It was born to respond to the new challenges of resolving outdoor spaces in any type of building: hotels, residential areas, offices or shopping centers.
Orixe consists of a modular program of components that, through multiple combinations, can be easily and organically adapted to any project. This customization is also achieved thanks to the option of lacquering the steel elements in any color from the RAL chart -beyond the standard beige and green-, as well as the possibility of making the slats in elondo wood -hard and certified wood , ideal for outdoor use due to its resistance and durability characteristics - or in heat-treated pine.
A reusable and easy to assemble outdoor furniture system
The plug&go assembly system -simple, fast and practical- allows you to assemble and disassemble the elements of the Orixe range as many times as you want; giving a different aspect to the same space (achieving a different visual effect without making any expense), or being able to reuse the same material in different real estate assets, betting on circularity in construction.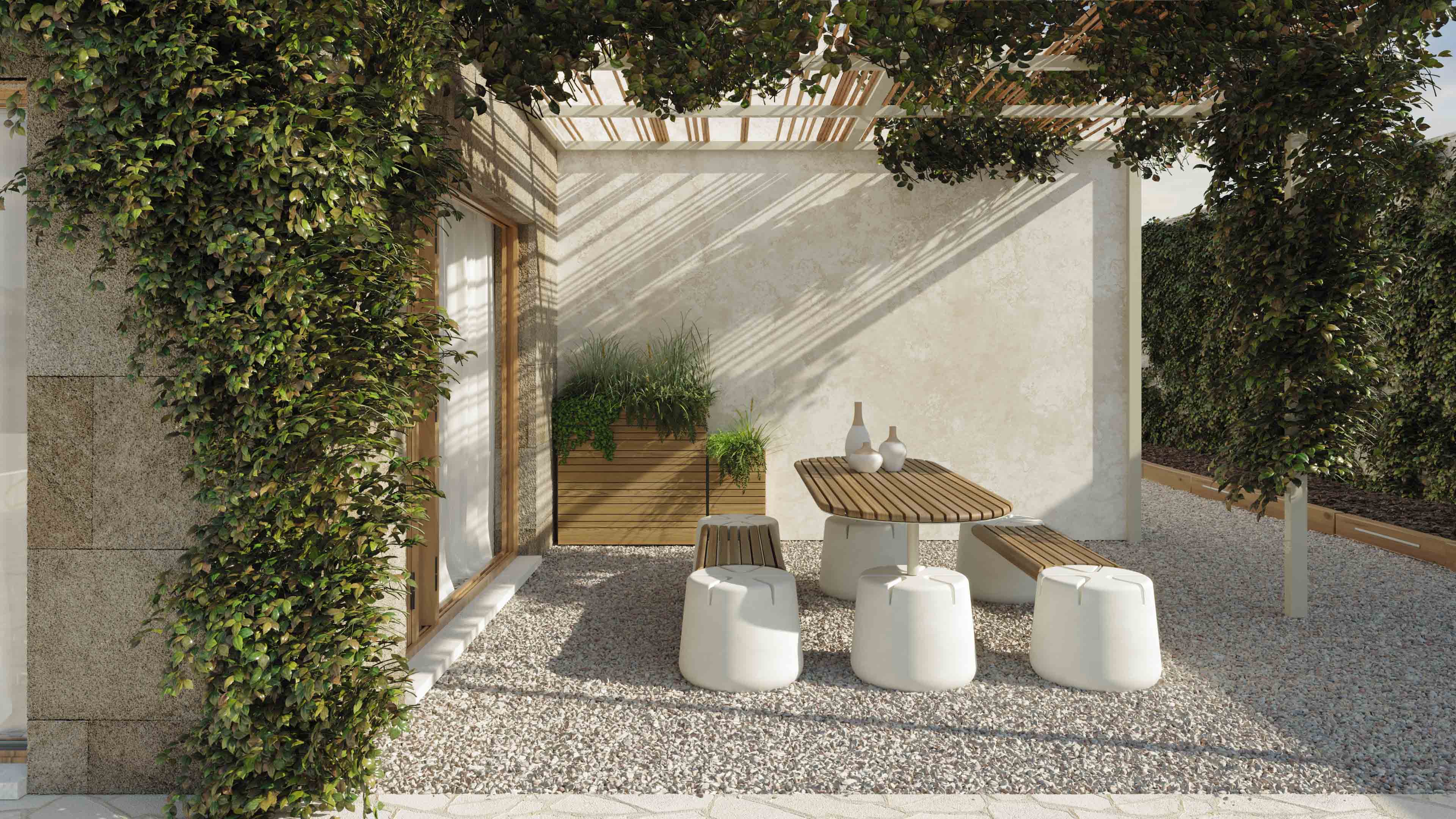 Sustainable and timeless outdoor furniture in its design
Orixe is also characterized by the use of sustainable and highly durable materials, such as wood or recycled concrete. Likewise, the manufacturing process is characterized by the proximity between the different elements of the chain, with a clear commitment to the local economy.
The range of furniture created by Stone Designs presents a differentiating and timeless design, highly functional, with a European character but with a global vocation. In addition to the stump - an element around which the different combinations are created - the Orixe range includes various types of tables, benches with their respective accessories, umbrellas, divider, pot and wastebasket.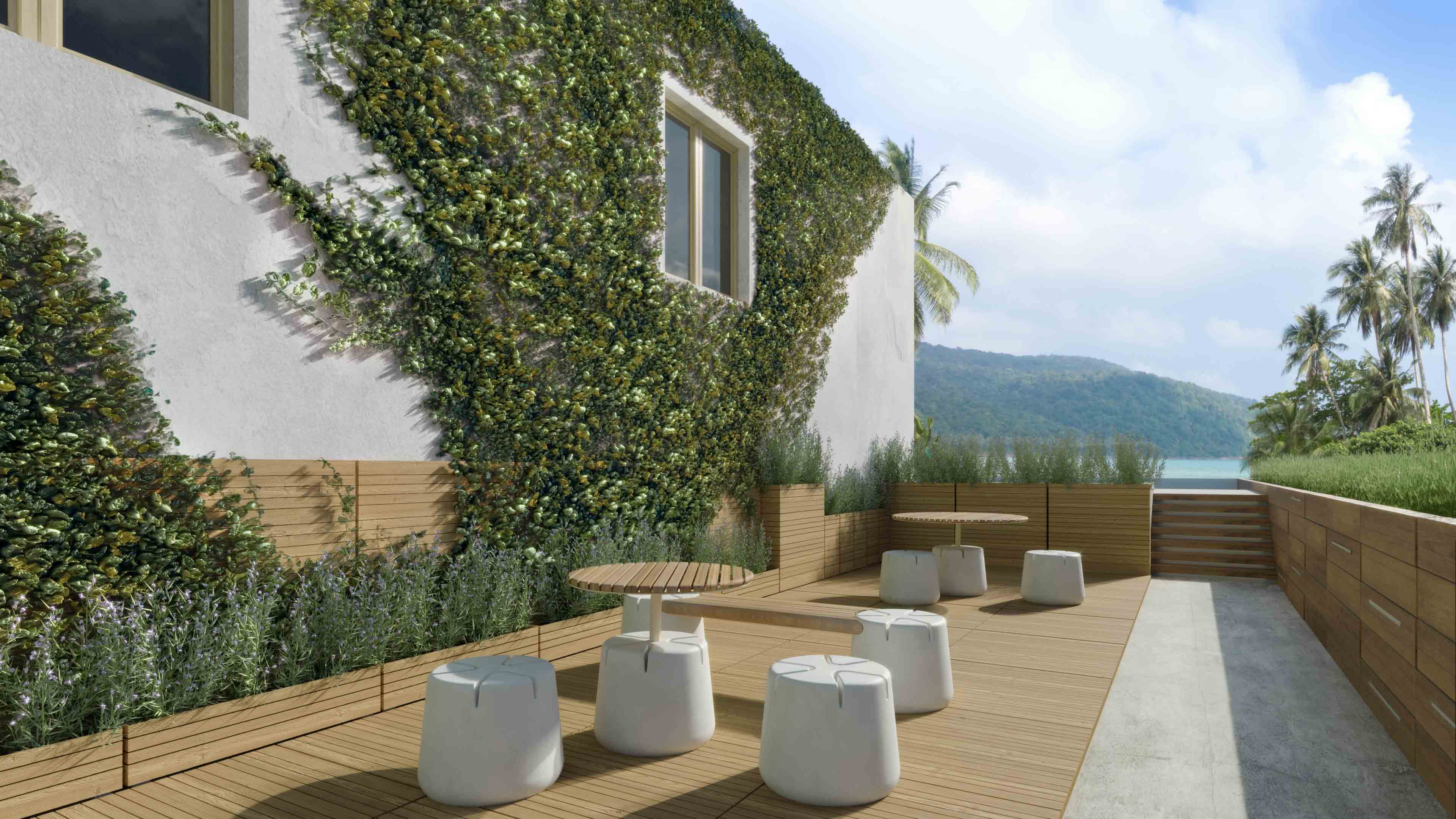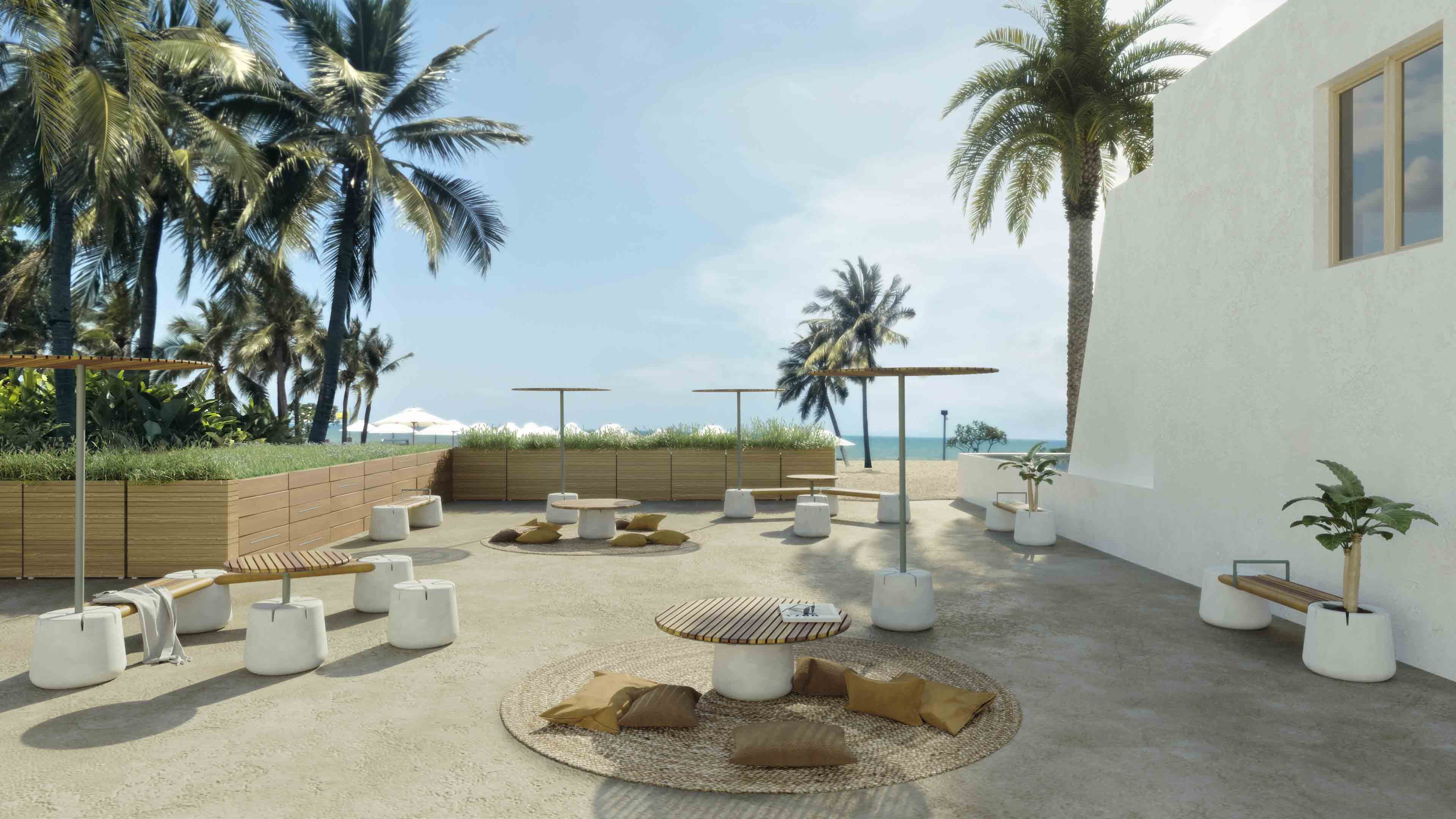 Un sistema de mueble exterior reutilizable y fácil de ensamblar
El sistema de ensamblado plug&go -sencillo, rápido y práctico- permite montar y desmontar los elementos de la gama Orixe las veces que se quiera; dándole un aspecto diferente al mismo espacio (logrando un efecto visual diferente sin realizar ningún gasto), o pudiendo reutilizar el mismo material en diferentes activos inmobiliarios, apostando por la circularidad en la construcción.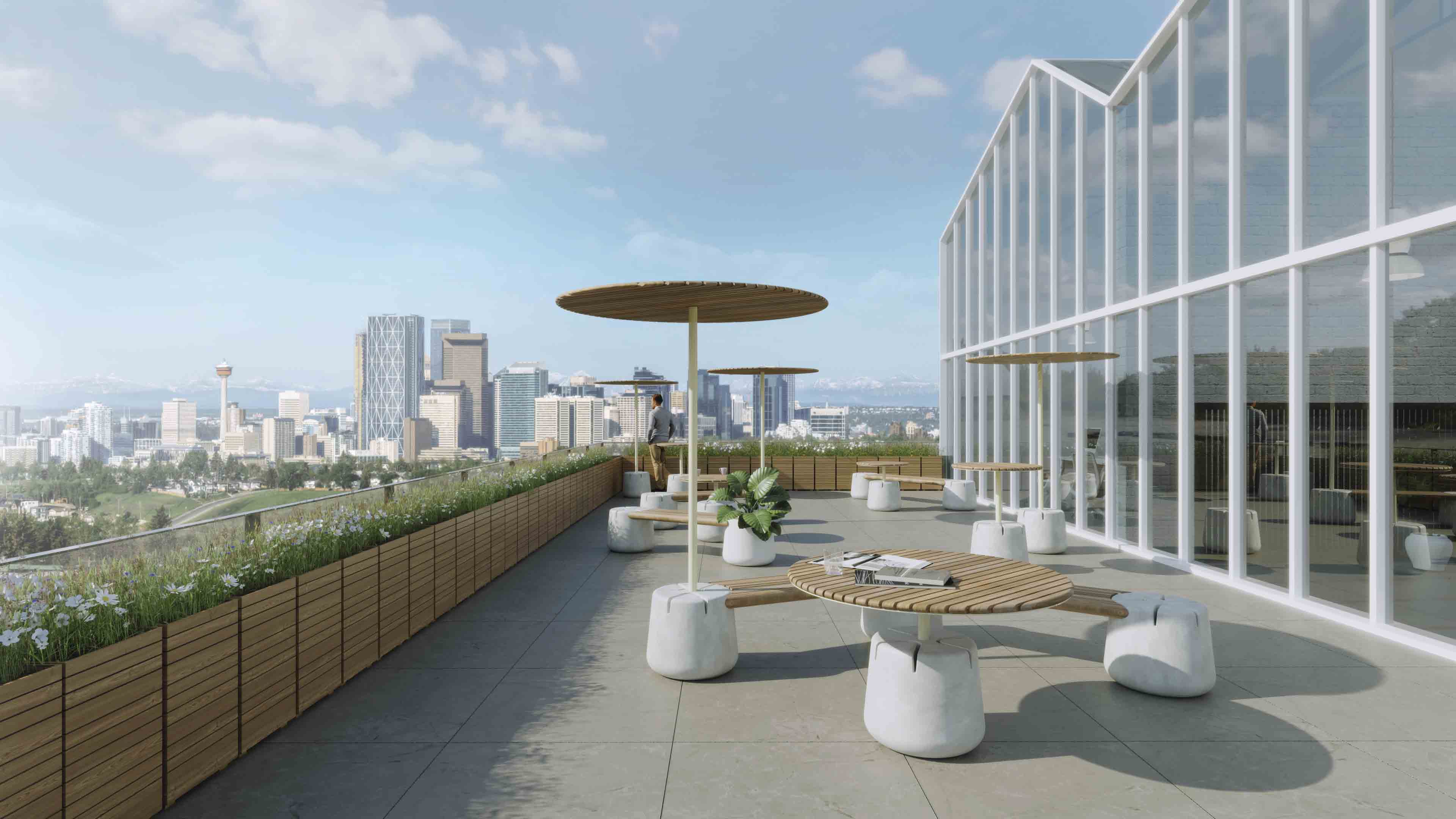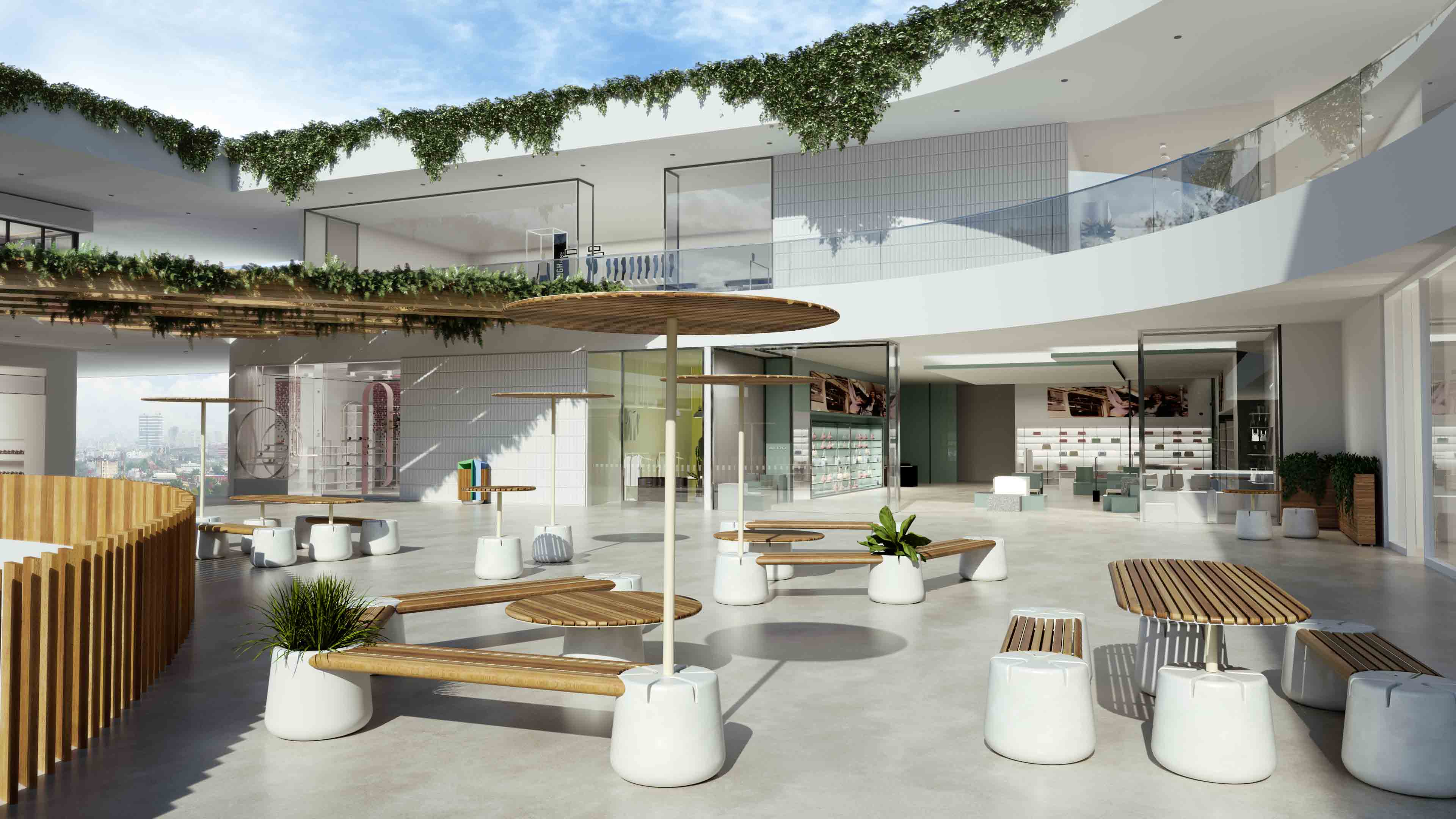 Mobiliario exterior sostenible y atemporal en su diseño
Orixe también se caracteriza por el uso de materiales sostenibles y de gran durabilidad, como la madera o el hormigón reciclado. Asimismo, el proceso de fabricación se caracteriza por la proximidad entre los diferentes elementos de la cadena, con un claro compromiso con la economía local.
La gama de mobiliario creada por Stone Designs presenta un diseño diferenciador y atemporal, muy funcional, con carácter europeo pero con vocación global. Además del tocón -elemento en torno al que se crean las diferentes combinaciones- la gama Orixe incluye varios tipos de mesas, bancos con sus respectivos accesorios, sombrillas, separador, maceta y papelera.